Sign up for electronic billing and receive a
$5 one-time credit on your next bill.
Also, receive your bill as soon as its processed.
To sign up, call the office at (251) 626-3067
SFWS Mobile App Now Available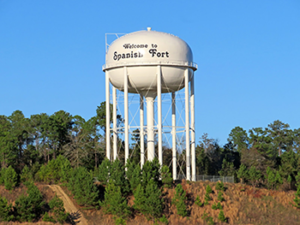 Spanish Fort Water System, Inc. is the legal responsible entity that owns, operates and maintains the water distribution system serving the City of Spanish Fort and surrounding areas.
The first meeting of the charter members of the Spanish Fort Water System was held at the home of Ford Cook, Spanish Fort Al on the 7th day of March 1964 at 6:30 p.m. for the purpose of organizing the Corporation. Present at the meeting was Ford Cook, Frank Buzbee, B. H. Steele, T.C. Bethea, T. Lee Whitson, David E. Books J. A. Jernigan, William H. Cobb, H. F. Clark and J.B. Shiver.  The Board was selected and the By-Laws were approved.  The System took out a loan for $380,000 with Farmers Home Administration and hired Donald Mill, Consulting Engineer, to oversee building the system.
As the area has grown so has Spanish Fort Water System.  In the beginning Mr. Cook had a few more than 40 customers signed up for the new water system. In 1990 Spanish Fort Water System acquired Spanish Fort Estates private water system giving it a big increase with customers.
The Board of Directors serves approximately 4,000 customers as of May 2011.The board is a five-member board that serves three-year staggered terms.  The customers, each as a member of the corporation, elect the members of the Board.  The Board of Directors elects the officers of the Board. Our Annual Meeting takes place on the first Monday of March at 7:00 p.m.  Monthly board meetings are held every second Tuesday of the Month at the billing office any member is welcome to attend.
At Spanish Fort Water System our board and its employees work together to establish an excellent record of service to the people of Spanish Fort.
Board Meetings are held the second Tuesday of each month at 5:00pm at our main office. Please call the office for details.